Faris Jorephani,
Sports and Rehabilitation Therapist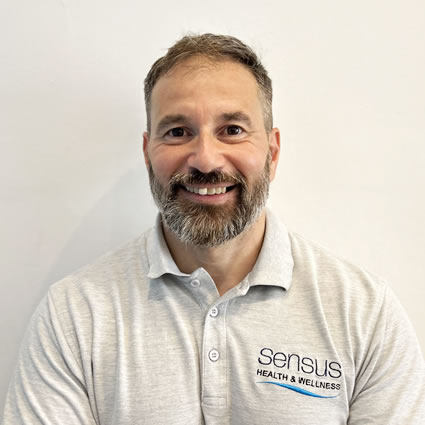 In his role at Sensus Health & Wellness, Faris is helping clients suffering from a range of different soft tissue imbalances and musculoskeletal injuries. He uses many techniques from his toolkit, such as stabilizing exercises, massage and taping, tailoring each approach to the specific needs of the client and their unique injury.
Shifting Careers
Faris didn't always work in the healthcare profession. He spent approximately 23 years in the luxury fashion industry as a retail operations manager. "I learned a lot of skills, traveled to many countries, worked for many different fashion brands, and having all those experiences has helped me get to where I am now."
After his time in the fashion world, Faris transitioned to personal training, aligning with his passion for physical activity. As a personal trainer for eight years, he worked with a range of different clients and predominantly with older clients. Witnessing his clients sustain injuries and not being able to help them, he saw a natural progression towards rehabilitation. What he loves most about his work is the process of helping people return to full fitness. Seeing his clients accomplish their goals fills him with joy.
Education & Background
Faris' further journey into the health and wellness field from being a personal trainer, continued with his Sports Rehabilitation degree at St. Mary's University in Twickenham. His final placement was with Sensus Health & Wellness, where he impressed the team so much during his six-week stint that they offered him a position upon graduation. This was part of a three-year requirement to accumulate 400 hours of practical experience for accreditation.
EXPLORE OUR SERVICES
Taking a Collaborative Approach
Collaborating with chiropractors at the clinic has deepened Faris' belief in holistic client health and wellbeing. He appreciates how chiropractic care may help prevent some injuries and really enhances the body's response to healing. The practice's philosophy aligns with his own, wherein a client's care plan will often include both chiropractic sessions and rehab support. This synergy between departments enriches his role and the client's journey to recovery.
Serving the Community He Loves
The location of our practice is another aspect Faris cherishes. A mere 10-minute walk from his residence, it allows him to serve his local community. He enjoys building connections with the local clientele and contributing to the community-centric ambiance of West London. As a father of two young children, he appreciates the great schools and family-friendly environment that makes it an ideal place to grow up.
Family and Hobbies
Faris strives to maintain a healthy lifestyle through regular exercise, and he enjoys spending active time with his family, like coaching tennis for his older son. He and his family love outdoor activities, as well as indoor ones like movie nights and building with LEGO bricks.
Professionally, Faris constantly updates himself as a health professional and rehab specialist with the latest research and methods on how to best serve his community. Reading is a significant part of his downtime to stay current in the field.
Book an Appointment
If you're dealing with musculoskeletal pain or injury, we want to help. Contact us today to schedule an appointment with Faris.

Faris Jorephani, Sports and Rehabilitation Therapist | 020 7385 0452